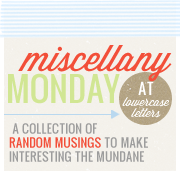 Well it is Monday again folks! I hope you all had a fabulous weekend, ours was pretty darn good! Here goes my miscellany......
Carissa who hosts miscellany Monday just had the most beautiful baby girl and she still made time to post today AND right after her daughter was born all from the comfort from her hospital room........ummmm.....can you say SUPERWOMAN!!! (go visit her and take a look the photos of her and you will really be saying shes superwoman, she is beautiful! )

My little brother is graduating from High school! I am so proud of him ,he is such a great young man. Where has time gone it seems like just yesterday we were playing with my babydolls together (haha)
3. This morning Eric found Madison asleep on the couch! The past couple of weeks she has been sleeping on her floor, of half way off her toddler bed, or beside our bed on top of the million pillows that go on our bed when it is made up (which it rarely is), and now on the couch. I know it is nothing to "worry" about but Eric and I both agree it's pretty stange or shall we say unique.
4. I went to a great FREE photography workshop on Satuday, I learned so many little tips and tricks. It was put together by the organizer from one of the local photography groups that I am a member of. It was great to be surrounded by so many people with the same passion for photography as me, and to be honest being able to have an adult conversation without Madison was a much needed break. I came home feeling refreshed and ready to play with my wild girl, who by the way did not miss mommy one bit! She always enjoys her alone time with daddy.
I'm off to fold some laundry and unload the dishwasher before the hubs gets home, Happy Monday!