It's that time again, everyone ready for some more

random musings

!
Go link up with
Carissa at lowercase letters
so we can enjoy yours.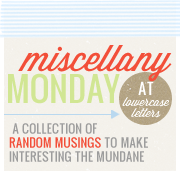 1. Why is that I always run out of every beauty and bath product I use

at the same time!

Why are they all so darn

expensive

? I guess I will just do without, except for the shampoo and conditioner, oh and maybe I should "splurge" and get some deodorant, ha, I think my husband would be okay with that.
2. My hubby is comes in from checking the mail on Saturday and tells me not to squeal every time I turn the page of my

new

mini boden magazine

. Go take a look at their too cute autumn/fall clothes! I love everything! Be sure to check out the clothes for you and your man too, they are just as fabulous! I must say the prices are not so fabulous, but hey a girl can dream of having nothing but boden in her closet, right ?!
Here are few of my faves for Madison

, love this knit owl dress, this bold birdie dress is to die for especially with cute tights and a cardigan, and this gray peacoat at to me a very reasonable price of $40 would go with everthing.
3. While typing number 1, I figured out where the

poo smell

my husband and I have been trying to "smell out" all weekend is coming from. My daughter must have spilled her milk in between 2 couch cushions, lovely.
4.

I am addicted to gum

, especially orbit sweet mint. Some people have to smoke when they get in their car, I must immediately insert a piece of gum into my mouth.

Weird

I know, but that would not be the first time I've been called that.
5. Lastly,

if I never saw an ant again, it would still be too soon

. Every time I think they are out of my kitchen and bathroom I see them again. Madison will now squish them and say "look mommy I squish it" , lets me just say I am not proud of that, but I guess after seeing me killing them time and time again she picked up on it,

oh well

.
Happy Monday!